Literacy Coaching and Consulting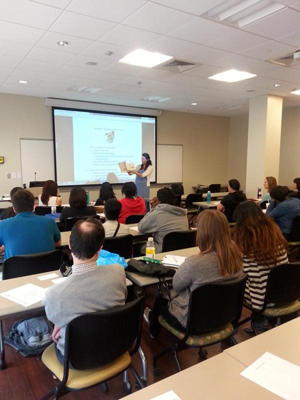 We help elementary schools achieve reading success through virtual and in-person literacy support.
Our founder and CEO, Kathryn Starke travels throughout the nation to share her passion for literacy in elementary schools. She adds her unique techniques and successful strategies to support any literacy curriculum or program. She collaborates with parents, teachers, and administrators in all aspects of language arts. Kathryn is available for trainings, presentations, workshops, or personalized coaching sessions in your school, district, organization, or conference. Fees may vary. Contact us for further information to support your educational needs.
Coaching for Schools May Include the Following:
Plan with reading specialist and/or classroom teachers for weekly and/or quarterly instruction based on district pacing guide
Conduct data analysis on reading assessments with reading specialist, teachers, and administration to target standard based instruction
Observe classroom guided reading blocks and provide individual feedback for strengths and challenges in their classroom
Model reading lessons in the elementary school classroom
Develop a grade level or school based language arts curriculum, pacing guide, strategic instructional plan, and reading assessment calendar
Develop language arts block schedules to include guided reading, shared reading, writing workshop, and word study
"Kathryn supported our school in literacy coaching by first conducting observations to gather pre-assessment data on our teachers' ability to deliver high-quality instruction. She found that teachers were missing critical pedagogy to reach urban children and began the process of job-embedded coaching with teachers on research-based strategies to improve reading instruction. The following year, we noticed our teachers' self-efficacy improved and student outcome data increased tremendously just by shifting our focus from continuous remediation of struggling readers to more data-driven professional development training on the balanced literacy model for teachers."
Dr. Tracy Stith-Johnson, Principal, Petersburg Public Schools
Speaking Engagements
(Call for pricing)
Kathryn is available for speaking engagements that promote literacy at home, school, and in your community. She speaks on a variety of topics related to her role in education as well as a children's author. Some specific topics are listed below.
literacy (early childhood, elementary, secondary level)
urban education
elementary education
global awareness
multicultural literature
reading instruction at school and at home
writing for children
parent and family literacy programs
From colleges to corporations and everything in between, Kathryn addresses the importance of providing every child with the motivation, inspiration, and instruction to be a successful reader. She uses her expertise in education to match the mission of any company, foundation, or organization to address the importance of creating a community that promotes and supports literacy.
School Presentations for Teachers
"Tackle Reading"
(Call for pricing)
Quality literacy instruction goes beyond just reading the book Tackle Reading. This professional development opportunity brings Tackle Reading to life by providing reading tips, educational guidance, and motivational stories for teachers and administrators. The PD empowers fellow educators to love literacy and teaching reading. This PD showcases the material and information the author uses to help turn failing or challenged schools into full accreditation in one school year.
"Teaching with Trade Books"
(1 hour presentation, Call for pricing)
* Connections to Common Core or State Standards
How can a second grade teacher fully explain the concept of matter to a student who reads on a kindergarten level but is expected to pass assessments and read materials at a third grade level? This program gives classroom teachers a variety of popular children's books that can be used in small group and whole group settings to teach a particular objective. Amy's Travels by Kathryn Starke is one of the selected books.
Kathryn Starke provided teachers with an overview of wonderful trade books and activities that correlated with the standards. She showed teachers how to use these books across the curriculum to tie in all subjects and make learning fun for the students.
- Spencer Cross, Title I Reading Teacher, Sheffield Elementary School, Lynchburg, Virginia
Very personable presenter. Kathryn is knowledgeable about her field. I had a teacher say she wanted a "trade book" for a particular lesson and I was unsure exactly what she meant. Thank you for explaining what "trade books" are to me.
- "Teaching with Trade Books" Presentation, VEMA Conference, Roanoke, VA
"Motivating Struggling Readers into Independent Readers"
(1 hour presentation + classroom instruction, Call for pricing)
This program gives educators creative and engaging activities, lessons and hands-on learning materials that will motivate struggling readers to become independent readers. Having worked in urban schools for a decade, Kathryn Starke shares the ideas she uses every day with her own students. Following the presentation, she will plan with teachers and give lessons and ideas to meet individual instructional needs that correlate with their curriculum and students' learning styles. If available, Miss Starke will spend time in the classrooms during language arts instruction to model lessons or work in small group settings with struggling readers using her strategies.
The highlight of elementary school was your class; we had so much fun! You definitely inspired me to be an avid reader. I read everyday. You were a true inspiration.
- Former Student, Richmond Public Schools
Kathryn's presentation is wonderful for a range of educators from novice to advanced. Like any good teacher she understands the importance of starting where the participants are and created a tailor-made presentation for our tutoring volunteers that made them feel empowered to think creatively about literacy. I am confident that they will excel with their newly acquired reading strategies and, in turn, our students will succeed.
- Erin Burke Brown, VCU AmeriCorps/America Reads Program
School Presentations for Students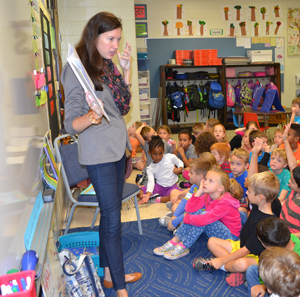 Skype an Author
Amy's Travels
(2 thirty minute programs, Call for pricing)
Author Kathryn Starke shares Amy's Travels with students using the descriptive text and colorful illustrations of this multicultural children's book. Amy's Travels teaches the geography, culture and diversity of our world through the eyes of a young girl. Since this book is based on the true story of Kathryn's friend Amy, she uses the presentation to explain how true stories make the best books and how our favorite book characters represent real people. Since the book teaches the seven continents, Kathryn uses an interactive approach by having students mark Amy's travels on a map of our world. A book guide is available for teachers. Presales and personalized copies of Amy's Travels are available for students and teachers.
Kathryn Starke visited Millwood School and presented her first book, Amy's Travels, to two groups of students: kindergarten through second grade, and third grade through fifth grade. She was able to peak the student's interest by crossing the curriculum with hands-on reading and geography. Millwood School's teachers and students appreciate her abilities, enthusiasm, and time with us. Each of us was enriched by this experience.
- Diane Murrell, Language Arts Head, Millwood School, Midlothian, Virginia
Kathryn Starke is a fabulous storyteller. It was so easy to listen to her and feel her excitement about the character and the places she went. She packed the house with over 60 visitors. Kathryn has been one of my favorite visiting authors, and I would gladly invite her to the museum again and again.
- Wendy Murphy, Resources Center Coordinator, Stepping Stones Museum for Children
The presentation was perfect. The teachers could tell Kathryn was in education because she interacted so well with the students, tied everything in with the curriculum, and it was the perfect length. It was "just right."
- Tammy Byram, Librarian, Margaret Brent Elementary School, Stafford, Virginia